Alex & Harpo
Continously new singers are coming into my repertoire and as I determined one day that I can imitate also Harpo (nearly everyone knows his well-known song "Movie star") well, I started the search for the texts of his songs - I already had a CD of him for a long time, because I like his music very well.


During my search I met Kerstin of the official Harpo Fanclub, who became meanwhile a good Mail friend of me. In the year 2003 the easter-rabbit seemed to have forgotten her, an so I had a crazy idea...

As an eastersurprise in 2004 she should get a CD, on which I sing together with Harpo in the Duett some of his songs.


The cover should become a special clou. Kerstin liked to see me one day in her life in traditional Bavarian clothes. So this was a good occasion to make this desire true...


At first the suitable clothes had to be found. Here a teammate helped me, after telling him the importance of this project, and with the promise to receive a CD when it is ready. Finally he was ready to lend me his valuable family heirloom - an original Bavarian leather trousers of the grandpa.

An additional gag should be the walking-stick "senior friend 2004" designed by me . For this one you must know that Harpo often carries a special walking-stick with a bell, which also can be seen on his CD "Movie star".
The original Harpo-CD "Movie star" shows Harpo with his "special tool":
A walking-stick with bell-on-board.
My model had to be naturally a number larger - bell was not applicable thus any longer. The prototype of the new walking-stick had therefore a piezo siren with 110 dB sound pressure.


Here you can see, how I made a "test-drive" with the new walking stick: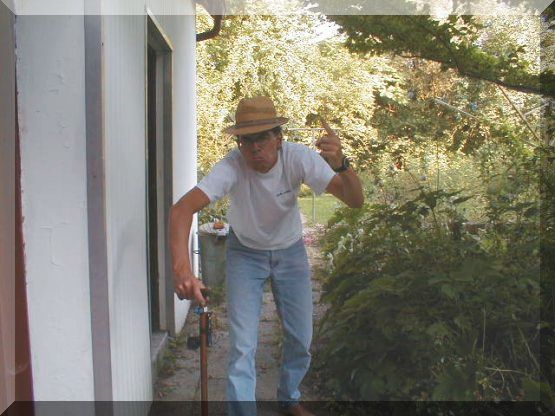 The sound was already good, but the outlook was not perfect

So I got a gas fanfare and installed it aditionally at the walking-stick: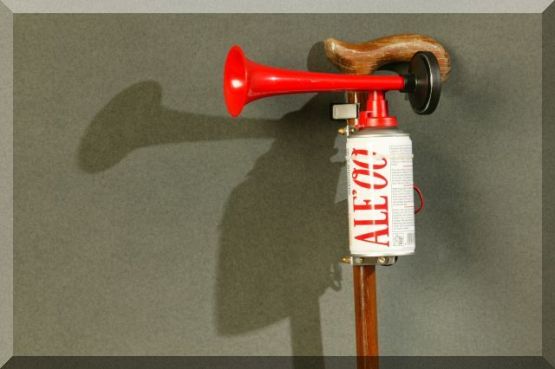 Now the outlook was perfect!
Now it was necessary to shoot the fotos for the cover of the CD. To get the the best results in a high quality level, only one photographer was predestinated for the photos:


Photographer master Heiner Heine


Already at "Lucille" this man had proven his quality and for this project it schould not to be different.


The photoshooting in Heiners studio was a full success and I had now still the agony of the choice to select one from the many pictures as the coverfoto to design it afterwards at the computer.





And after some hours the cover was finished:


Here the finished CD cover with the CD, on which I sing three songs of Harpo in the Duett with him together:




The CD has also a little booklet, you should really look at it...
After a long work and a little under time pressure the CD was ready now and could be sent suitably packed as an easterpresent - nevertheless this should not be so simple...
Easter-present for Kerstin, with a letter of the "Bavarian Easter-bunny-center"
After I had sent the package, I waited for Kerstins reaction...


and waited...


and waited...


until finally I found the package in my own post office box! What had gone wrong? Of course, I had sent the package secretly (should become a surprise) at Kerstins p.o. box. Now, somehow the time limit at the post office had run off and so they sent the package back.


"What can I do?", I asked myself.


And so I created a new E-Mail address with the "meaningful" name: "BOZ" - this stood for "Bayerische Osterhasen Zentrale" ("Bavarian Easterbunny Center") - but only the shortening was named.


So I wrote an e-mail to Kerstin in the name of this mysterious company. I told her, that we have a package here for her, which cannot be sent, because we don't have the correct adress and I asked for a valid adress to which the package can be sent to. Kerstin answered immediately and of course she had some question about the package and the company. I answered her , that our public relations office will soon contact her to give answer about the company. I already had the correct address now and so I sent the package again to Kerstin...


And again: I waited...


and waited...


and waited...


"Fuck - What is going wrong here?" I thought by myself and had to inquire now inconspicuously with my true identity about a "letter" at Kerstins post office .


And two E-Mails later finally Kerstin got the easter-surprise - great! And that this also was successful, it can be checked on Kerstins Homepage easily, where the CD even can be found at a honour place. (click on "Sammlung", then on "Dank")


Here you can see the correspondence of the mysteriously company called "BOZ".


---

But the story still continues:

When Harpo got to see and hear the CD, he was so inspired that he wanted to keep these directly. But it was Kerstins CD and of course she did not want to give it away. And so the "Bavarian Easterbunny Center" had to become active again, in order to make a CD for Harpo, too.

I signed the CD for Harpo, because I imagined that it would certainly make him happy, to get a signed CD, because I was shure he also has to write dedications very often.






:

Harpo finally thanked me with CD and an autograph: