Steven & Alex


At some time or other there comes a point of time,

you are asking for questions, no one can answer to.

Some of these questions you already had as a child

and you have asked your parents about,

but the answers were not satisfied.





Some people forget or force out this questions,

because it seemes impossible to get answers about.




Other people carry this questions with them their whole life ,

without getting answers.




Some other people have an insatiable longing,

and they try to explore the impenetrable.



"Longing - The world is great - life begins and ends in time

- who knows, what is the sens in it"





I am a profound person.

Small-talks didn't ever satisfy me much.

And while other people prefer to explain

with daily problems

(isn't bad, too),

I occupied with things,

seemes to have no place in normal daily life.




And I have been looking for people, who felt similar,

and for places you can experience about things,

staying out of obvious things.




During my search I found the city of Baden-Baden.

Since this time it's one of my favourite cities.

There are a lot of wonderful landscapes and interesting architectures.

Beyond nice villas and old castles there are modern buildings, too.

One of them is the congress house of Baden-Baden:
Since a few years there is an event,
people of whole Germany are visiting.
People living in different societies going there,
to find answers about questions, they mean to find nowhere else.
On my own I found a lot of things there:
Crazy and normal people
holy and sanctimonious people
Helps for live and wrong teachings
fun and sadness
beautifulness and ugliness
want say: all things you meet in life,
mostly in not such concentrated form.
But in the main point I met there good musicians. Here you can see one of them:
Steven Walters
His name told nothing to me.
But I had time at the moment and nothing others to do,
so I decided to listen his concert.
And while I sat there and listened, I never would have the idea,
that this concert would be an extraordinary event,
but I was taken into a world with music and silence.
And it was the silence, which impressed the concert.
Maybe this sounds a little silly, that silenc is much important than music,
but it have been the short times of total silence and
the realizing present time together,
which the artist seemed to call in an impressing way.
This was, without doubt, a "tire-situation"
Ey, you don't know, what is?
Go fast to
AlexanderS dictionary of special words!
If you know the author Joachim-Ernst Berendt, the great "philosoph of hearing",
you understand what about I am telling here.
It is a pity, I didn't get the chance to meet him,
because a short time before we met, he died by an accident with a car
- a tire-situation, too, but in other meaning.
Back to Steven Walters.
Although making music alone, he and his guitar acousticly filled out he hall completeley
and brought out one tire-situation after the other ;-)
This concert was at least so impressing,
I changed my whole plans,
and decided to visit the workshop,
which the artist would offer the following days.
---
---
The Workshop
Seldom or never I experienced in a music workshop less about music
and practiced less than at this one.
But it was one of the most fascinating experiences:
Most time we sat there and let all things come, how they want.
And when you begin a work without expectation,
you mostly will get the best results.
And like this it was at that workshop.
We laughed, cried, talked or said nothing,
and as there was a time, we made music, then totally!
Suddenly we came in such mood,
the room seemd to be getting bursted acousticly
and we had to go out to the great entrance hall.
There we sang and sang and sang.
Suddenly people came out from the other rooms and
they were surprised about our devotional singing.
In deed, some people even sang together with us.
After a good while we returned into the room of our workshop.
- Without words -
Seldom before I had experienced such a intensive Tire-situation.
---
At the beergarden
In best mood we went to a restaurant at noon.
First time after arriving Steven sat down a few meters ago and lightened a cigarette.
and he smoked
and smoked
and smoked...
and as he came to us others after a quarter of hours, he said:
"Oh god, I smoked three cigarettes!"
And I answered, in view of this quantity it seemed he smoked for me, too - Steven laughed.
Well, I took a piece of Steven's pizza and explained:
"Okay, if you are smoking for me, I will eat for you"
Steven took my beer:
"Well, then I drink your beer for you".
The people sitting around, where laughing, and we were amused so much.
Somebody started to sing. And suddenly we had a great party at our table.
We sang old songs of The Beatles and the whole restaurant
had a wonderful entertainment for nothing.
Allured from the "good vibrations", strange people came and sat down to make party with us.
- By the way, have I ever told you, that I have a own name for those situations? ;-))
To fast time was gone and Steven had to leave.
Steven at his way home
---
Home again, the remembrances at this beautiful time had an effect long time after
and I thought about, in which way I could work out these experiences in an adequate way.
I had shot some photos and some records of the concert.
Only thing I missed, was a CD from Steven.
So I ordered one via internet.
The decision wich one wasn't much difficult, because in Germany was
following of his both CDs available:
Steven Walters CD "So Many Blessings"
The following weeks I designed the CD in an adequate way:
Instead of Steven Walters CD the duet-CD "Steven&Alex" was created,
the cover was completed with a beautiful white dove
The backside had to be designed, too:
I had to be at the cover with Steven.
To get the right miming, I used a little trick: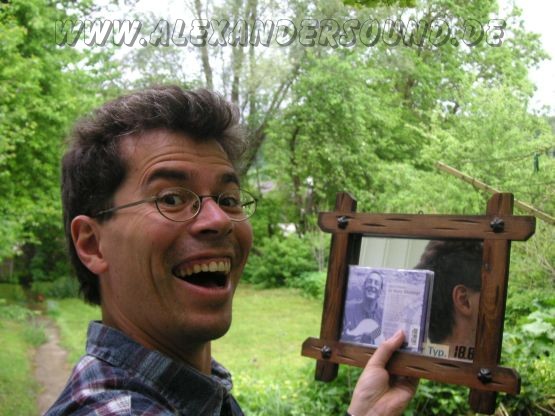 With mirror and the original CD I soon found the adequate miming.
5 tracks had to be on the CD:
1. "Nothing Less Than Everything",
- the song, I like mostly of the songs on the CD,
sang as duet
2. "Let Them All Fall Down"
- a remix of the concerts recordings,
sang as duet
3. "Let The Sunshine, The Peace And The Beer Come In"
- an in best beergarden-mood created variation of an well-known hit
I recorded, sang from Steven, Alex and members of the workshop.
4. "Let It Be"
- the well-known song of The Beatles, instead of all the Beatles-songs we
sang at the beergarden - soloistic recording of me.
5. "Still As Still Can Be"
- recording Steven Walters live
- a song which brought the silence back to the hearts of the people
As an extraordinary work I started to design the shot photos.
And who could know, that I suddenly became such creative
and created a book with over twenty sides.
Okay, now I had to wait until a chance would come, to meet Steven again...
---
One year later, time was come: Stevens second visit of Germany,
same place, same month of year.
Again I went to Baden-Baden.
Steven gave an extraordinary concert again
Steven Walters in concert
After the concert I had planed to present the surprise.
But the time was not the right.
Well, such a concert is real hard work, and then there were other guests around Steven
- so we only said hello.
"Tomorrow is a day, too", I thougt by myself and took CD and book with me.
At the next day I saw Steven behind of the congress house at a little jazz session.
He weared a seldom silly hat and was very concentrated at his guitars playing.
- Not a very good time for presentation of an Alexandersound-Surprise-Project again -
No chance, with such a silly hat you cannot get a project from me ;-)
So I simply sat down and enjoyed the wonderful day
and the good mood at the nice park.
A wonderful sunny day at the park
Well, jazz can be very nice sometimes for me...
but I'm not a real jazz freak...
and after the trumpeter played until my ears were roaring...
finest trumpet-sound!
...I had enough and went away.
It seemed, my plans didn't work well,
every time I intended to show Steven my present,
something came between.
Well, lets make something completeley different:
"Lets go to the rocks"!
Some changes cannot be bad.
And what is most beautiful after music?
The silence of the mountains!
BB has a nice little mountain, called Battert. And this nice little mountain I climbed.
An old, broken trunk inspired me for an interesting photo:
"Trust the life"
Well, that was the theme for me, too.
After nothing seemed to work like I had planed,
I really thought about to take my presents back home
and wait for a better time.
But life had a better plan:
At the last day of the event,
just as I intended to go home,
whom I saw
loneley
sitting down at the meadow?
Steven
- What should I say? -
Trust the life
The best possible time to present an Alexandersound-Project :-))
Steven looks at the artistic work and Alex is happy :-)
I presented the created book and Steven was absoluteley surprised:
"Those pictures!"
"Those colours!"
"That's my vision!!"
he called enthousiastic.
Steven was totally enjoyed
The great enthusiasm let a lens flew out of Stevens glasses:
A lens flew out of Stevens glasses
But it didn't matter, because my knowledge in handicraft was helpful and soon the
glasses were repaired and Steven was so enjoyed, that he can't calm down.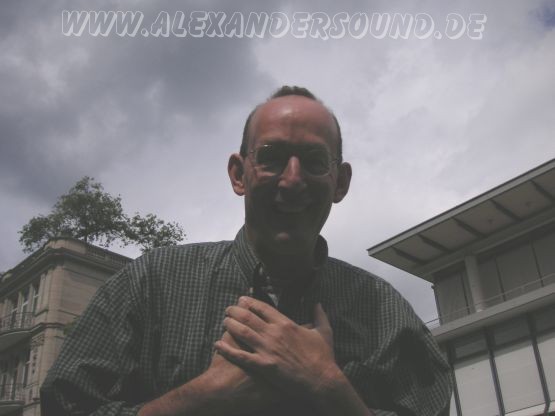 Steven was so glad
Imagine this:
Steven only had seen five pictures and was so happy, he can't get more at the moment.
He went away.
Well, I didn't expect such a great success.
What others could I have done instead of staying longer at Baden-Baden.
Steven intended to give another workshop
and I intended to make a little surpriseful visit,
to present him book and CD.
---
At the next day I was in good mood,
even more, until yesterday I was in flow
- Oh, you don't know what means flow? Then we need it again,
AlexanderS dictionary of special words
After a good breakfast an some rounds in the swimming-pool,
I went out for search to an adequate cover for the book,
because I didn't want the simple papercover any longer.
But "search" is the wrong word for this.
At flow it works in this way:
You drive with the car
in a foreign country
and you know
you will arrive
at a shop,
which has exactly
the thing you need.
I drove a short time, saw the shop and knew, it was the right one
The lady in the shop gave me the cover, she had exactly one peace from.
I wrote Stevens name at the cover and went to the congress house.
The perfect cover for the book
In flow there is the danger to overflow,
life begins to work and you want
1. to be in this mood forever
2. life ever has to work like you imagine
But you know, life has it's own ways ...
Well my plan was, to surprise Steven again
and first I had to find him.
So I entered the rooms of the congress house.
A little overview of some reactions:
Here the people take it with humour
Here I was watched like an extraterrestic visitor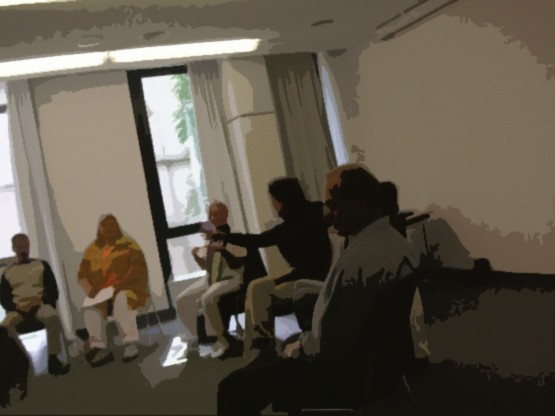 Here I was ignored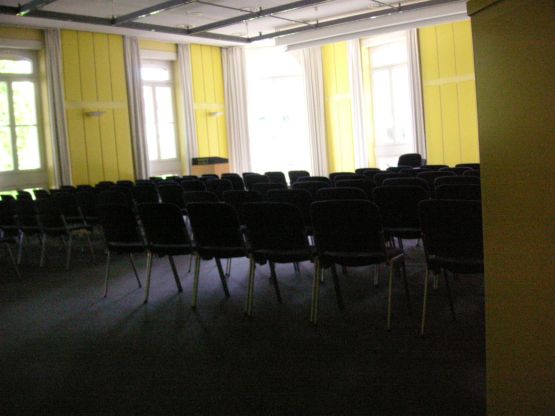 Here wasn't anybody
Whow, that was a crazy action! I should have taken Wallbreaker 2000 with me.
Such a congress center has a lot of rooms, and after looking in all (!) of them without
success, I decided to ask somebody.
This helpful sirs helped me immediately and I experienced:
"Steven Walters is out of the house"
Out of house is wonderful! But where?
One of the gentlemen had Stevens phone number and called him.
But Stevens phone was put off.
"I will find him", I thought and thanked the gentlemen for their help.
In deed, soon as I went out of the building,
whom I must see, not more than 20 meters ago with a group of people?
Who probably was sitting there the whole time
and whom I was passing nearly like a blind man?
Steven
If I weren't running into the building like a fool,
I easly could have found Steven before
without a long search.
So remember:
Stubborn plans
made your sight smaller
and you cannot see,
what life
wants to give you.
But why simply, it works in a difficult way, too! ;-)
Okay, I found Steven, that was the main part. And what was the theme of talking?
Steven had told the new members about the book and everyone was a little curious.
I was welcomed very hearty and because I had no more special plans,
I remained there with the nice group of people.
At such a wonderful sunny day, a walk through the city of BB is a good decision.
At nice places we stayed for a while, we talked, made music and still enjoyed the day.
Music and resting at the fountain
Steven watches AlexanderS artistic book
Sculptures have a magicly power of attraction to me
By the way, this photo was shot by Steven
- you see that beside singing he would be a good photographer, too
Okay, a little beastly this photo...
(Text at the banner: He was going crazy)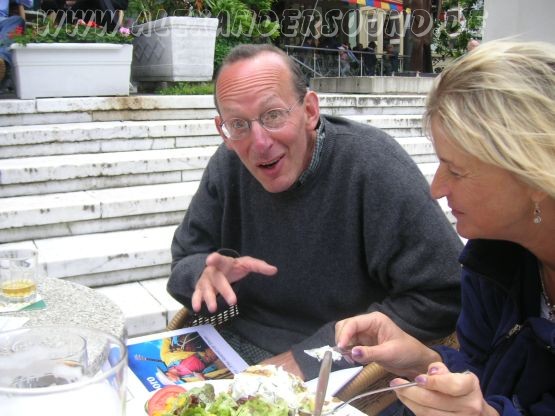 Even at lunch Steven couldn't let the book out of sight ;-)
Steven in his element
So we went from place to place...
Still sitting down and be glad to live
To this photo I have a nice story to tell you:
I photographed it with self shutter release and started some tries.
And as I ran more times between the camera and the scene,
it was probably amusing to watch for some people:
Suddenly a women came to us
and put some money at Stevens guitar case.
Here I have got her, as she laughing ran away:
There she ran away, the humorous lady
Look - such easy you can earn money ;-)
---
Even the nicest day has an end and so it was time to say goodbye.
But steven had to sign his CD of course
Steven signs his CD "So Many Blessings"
And: I haven't presented Steven "our" CD,
this surprise I wanted make at last.
And finally, it nearly went wrong:
We had lost so much time, that Steven went danger to miss his flight.
His driver was running to us, nervously tapping to his watch,
and it was a little like an action movie,
how Steven escaped fastly.
Running to the car I put the CD to his hands
"What's that? Looks like my own CD, but something different?!"
At the escape
Last picture from Steven at his "escape" to his hometown San Francisco
What more can I say?
"Many thanks to Steven
and all the nice people from the both workshops.
Ist was a wonderful time!"
to present you the
amazing book ,
which was fascinating Steven extraordinary:
Take time, to watch it and feel, what the pictures want to tell you
And here you can see the pictures
from the project-CD
"Steven & Alex"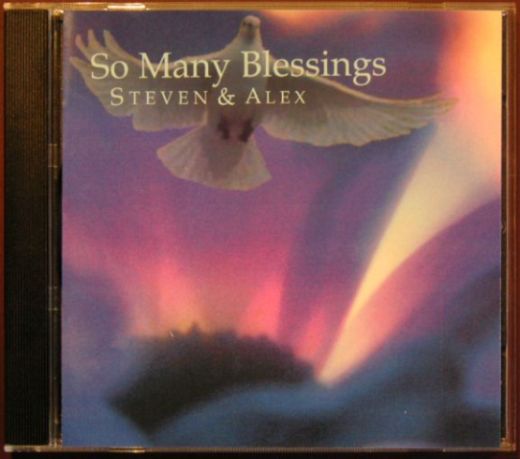 CD-Cover with white dove and little name changings
The CD got a special design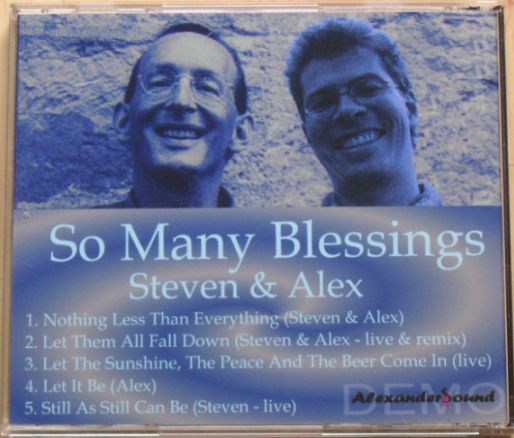 Backside of the CD-Cover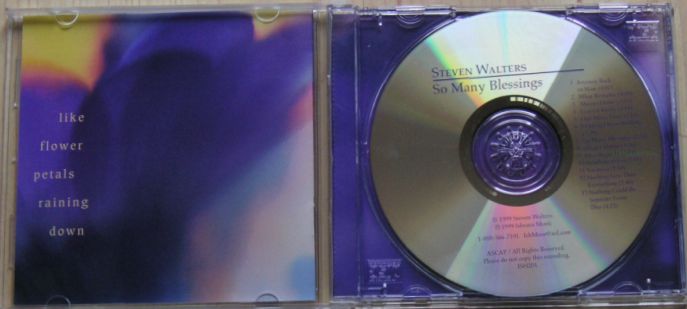 Original and Project-CD
The CD Cover (of course) has a little
The impressing pictures of a winters landscape
I have shot during a journey in winter 05/06.
And at the design of the booklet they were
perfect to express Stevens songtext
"Nothing Less Than Everything"
in an ideal way.
The pictures from Steven were built in after shooting
And the burning snow only exists at Alexandersound ;-)
Finally I want you to hear a piece of the CD:
Not enough?